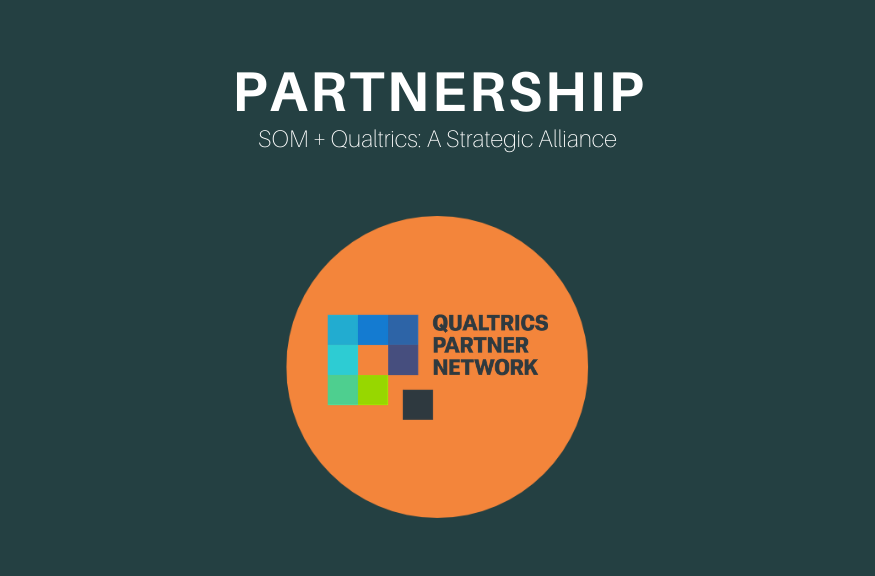 SOM and Qualtrics join forces to offer you more!
SOM and Qualtrics join forces to offer you more!
The current global crisis of COVID-19 is slowing down the pace of many companies around the world. At SOM, one thing that is not slowing down, however, is our tireless willingness to innovate and offer more to our customers.
The idea has been in our heads for quite some time now and it is with great pride that we announced earlier this week (read the press release) an official partnership between SOM and the American giant Qualtrics, a world leader in experience management solutions.
Qualtrics needs no introduction. Bought out in 2018 by SAP (for the sum of $8 billion), the company is growing at an impressive pace. With a presence in over 100 countries and more than 3,000 employees, it has quickly risen to the status of leader in experience management: customer experience, employee experience, brand experience and product experience. This business partner makes us think big!
The complementarity between SOM and Qualtrics is natural. What's the point of competing against such a giant when you can play on the same team? Qualtrics has an incomparable power and reach. Its market research, survey and experience analysis platform is one of the most advanced on the market. Whether it's for the development of questionnaires, data access or the implementation of dashboards, Qualtrics gets things done!
As for SOM, our strengths are based on unparalleled support at all times, a unique focus on personalization and strong strategic advice. For nearly 35 years in the Quebec landscape, SOM understands the needs of businesses. In 2020, the experience management process is more complex than ever and requires close support and sound advice. That's where we excel!
With this partnership, SOM becomes the reference for the implementation of Qualtrics solutions in Quebec, for the greater benefit of local businesses. By combining the strengths of SOM with those of Qualtrics, your company will benefit from an unequalled added value!
The COVID-19 crisis may be the right time for your company to review some work processes and, who knows, to integrate Qualtrics into your organization. You will come out of it stronger!
To discuss further with one of our experts, please click on the following link: som.ca/en/contact-us.